Before you hit the roads with your dog, you must ensure that you have all the car accessories he needs to feel safe and comfortable. To ensure your dog feels the adventure of road trips, you need to have the best car accessories for dogs on board.
Luckily, there are so many car accessories on the market to make your dog stay in one place while traveling in the car instead of roaming on the floors or rolling down the car windows.
Below is a review of the best car accessories to ensure your dog is happy during your trip.
Summary: 7 Best Car Accessories for Dogs
This seat cover from Frisco is built with adjustable straps for a perfect and secure fit and is designed to fit most car models.
The seat cover is durable because it's built with quilted, heavy-duty Oxford polyester to provide enough protection to your car floors and seats from stains or water spills.
It is quick and easy to install the cover, as you only loop the adjustable straps around the headrest, push the inbuilt cover anchored via seat gaps, and finally adjust the seatbelts.
The seat cover has two handy pockets where you can store snacks for your dog. Besides, the cover is easy to wash as you can clean it with a washing machine.
This safety belt from Mighty Paw is attached directly to the safety latch in the backseat's crease instead of attaching it to the seatbelt because your dog might step on it and release itself while you are busy driving.
It is durable as it is made from thick and weather-proof nylon metal to ensure that this safety belt does not wear out so fast.
The seat belt straps are adjustable from 16 to 18 inches to ensure your dog stays comfortable throughout the journey.
The belt has a swivel-free attachment to allow your dog to move freely without getting trapped.
This comfy booster seat from Kurgo allows you to elevate your dog by up to 30 pounds to view the outside from the window while you take on the wheels.
The seat booster has an adjustable seat belt attached to its harness so that your dog does not jump out of the booster seat.
This seat booster is supported by a metal that easily folds for easy storage when the seat booster is not in use.
The unique design of this seat booster allows you to install it quickly, either in the front or back of the bucket seat.
This Headrest restraint seat belt from SlowTone attaches your dog's harness to the headrest of most vans, cars, or trucks to secure your pet.
The seatbelt is made with a reflective nylon material that is visible during the night walks with your dog.
It has an elastic bungee that prevents your dog from suddenly jerking forward, assisting your pal in laying down comfortably.
The seatbelt can also act as a regular leash by adjusting the length of the seatbelt to secure your dog's harness.
The metal dog barrier from PetSafe assembles and disassembles quickly so you can get on with your trip and also comes with a storage pouch where you can store your metal barrier after disassembling.
This tubular metal barrier provides a visible view to enable you to see what is happening in the backseat, and your dog can still see you in the front seat.
The dog barrier is adjustable to fit in most SUVs or even cars and features rubber stoppers to prevent the barrier from slipping and damaging your car.
The barrier is built with a rattle-free design, producing minimum noise in case your dog scratches the barrier.
SP Dog and Cat crate have two openings with mesh paneling to provide a view for your dog during the entire road trip.
The two crate openings have security leash clips that hold the door in place to prevent the dog from escaping from the crate.
The entire Dog and Cat crate fold flat for storage when not in use. The durable side doors allow easy access when keeping or moving your dog inside the crate.
This Arf cargo liner has multiple layers of waterproof polyurethane materials that create a barrier against spills, nail scratches, or pet hair.
The bottom of this liner is non-slip, helping to keep the liner in place, and the super soft padding on the top helps keep your dog comfortable during the ride.
The liner is easy to install as it has two reinforced straps attached to the quick-release headrest.
This cargo liner from Arf Pets measures 85 by 55 inches to fit into most standard vehicles when riding with your dog.
How do I make my dog feel secure in the car?
Going for a car ride with your furry companion can be a fun adventure, but it's important to make sure your dog feels comfortable and secure during the journey. To help calm your pup's nerves, consider investing in a quality dog car harness or crate.
These tools can provide a sense of stability and security, reducing anxiety and making the experience more enjoyable for everyone involved. Additionally, giving your dog plenty of praise and reassurance can also go a long way in helping them feel comfortable in the car. Remember, taking the time to make your pup feel secure will not only enhance their car ride experience, but it will also keep them safe on the road.
What do you put in a dog car kit?
As a dog owner, it's important to always be prepared when traveling with your furry friend. A dog car kit is an essential item to have with you on the road. But what should you put in it? Well, firstly, you'll need a sturdy and secure carrier or seatbelt to keep your pup safe while driving.
Other items to include are a leash and harness, a water bottle and bowl, some treats and toys to keep your pup occupied, and poop bags for when nature calls. Additionally, a first aid kit including any prescribed medications is highly recommended. With these items in your dog car kit, you'll be ready for any adventure that comes your way.
How do I build my dog's confidence in the car?
Some dogs just don't like riding in the car. It can be a nerve-wracking experience for them, especially if they're not used to it. The good news is, with a little patience and a lot of positive reinforcement, you can help build your furry friend's confidence in the car. Start by making the car a fun and comfortable place for your dog.
Bring their favorite toys and treats and let them explore the space before taking them on a ride. Once they're comfortable just sitting in the car, start with short trips to places they love, like the park or the pet store. Gradually increase the length of the trips and reward good behavior with treats and plenty of praise. With a little bit of time and effort, your four-legged friend can become a great car companion.
Where are dogs supposed to sit in the car?
When it comes to taking our furry friends for a ride in the car, it's important to consider their safety and comfort. While some dogs may prefer to sit in the passenger's lap or stick their head out the window, it's not the safest option.
In fact, many states have laws in place requiring dogs to be properly restrained while in a moving vehicle. Options for safe dog transportation include using a harness that attaches to the seat belt or a crate secured in the car. It may take some getting used to for our four-legged passengers, but ensuring their safety is worth it.
What is the best calming for dogs in the car?
Taking your furry friend on a road trip can be a fun adventure, but it can also be stressful for dogs who aren't used to being in the car. Some dogs feel anxious, restless, and nervous during car rides, which can make the trip unpleasant for everyone involved. So what's the best way to keep your dog calm during car travel?
First, make sure your dog is properly secured in a crate or with a seat belt to keep them safe. You can also try playing calming music or using a pheromone spray to help them relax. Another tip is to take frequent breaks to give your dog a chance to stretch their legs and relieve themselves. With a little bit of preparation and patience, your dog can learn to enjoy car rides and make your travels together more enjoyable.
What is the safest position for a dog in a car?
As dog owners, it's important to ensure the safety of our furry companions when taking them on drives. So, what's the safest position for your pup in a car? The answer is simple – put your pooch in a crate or secure them with a harness.
Being unrestrained can put your pup at risk in case of an accident, not to mention also being a distraction for the driver. Investing in a good-quality crate or harness can give you peace of mind and keep your dog secure and comfortable during car rides. Remember, driving with a safe and secure dog is not only the responsibility of every pet owner, but it's also the law!
What can I use to help my dog get into the car?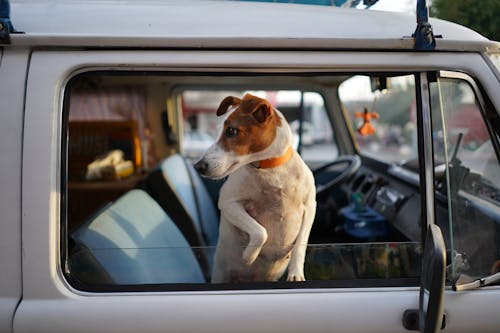 Getting your furry friend into the car can be a hassle, especially if they have trouble climbing in themselves. Fortunately, there are several tools you can use to make the process easier for both you and your pooch. One option is a pet ramp, which allows your dog to walk up an incline and into the car without having to jump or strain.
Another option is a pet step, which is essentially a set of stairs that can be propped up against your vehicle. These can be particularly helpful for small dogs or ones with mobility issues.
You could also consider using a pet harness that has a handle on the back, allowing you to lift your pup up and into the car safely and securely. By utilizing one of these tools, you'll be able to take your furry companion on all sorts of adventures without having to worry about the struggle of getting them in and out of the car.
What accessories do I need for my dog?
Dogs are not just pets, they are part of the family. As such, we want to make sure they feel comfortable and happy. Accessories play a big role in achieving this, but with so many options, it can be overwhelming to know where to start.
The first thing to consider is a collar and leash for walks. These come in many styles, but it's important to choose a sturdy and comfortable one. A comfy bed is also a must-have for your furry friend to rest and relax.
You may also consider toys to keep them entertained, dental chews to keep their teeth healthy, and a food and water bowl set. Don't forget about safety accessories like reflective gear for walks during the night. The right accessories for your dog can make a big difference in their well-being.
Final Words
Now that you have a variety of car accessories for dogs, it's your turn to choose the best accessory that will make your dog comfortable, safe, and happy during your road trip.
It's always fun and sometimes hard to take your dog along on a road trip, but with all the above car accessories, there is nothing that can cut off the fun between you and your dog.