When searching for the best possible bed for your Mini Schnauzer, you have to pay attention to the material quality is made from, ease of cleaning up, and level of comfort. I am sure you would want a bed that will give your furry pal a sweet, comfortable time while sleeping and one that lasts long.
But here is the point: You cannot just walk into the market and get a quality dog bed without a few options in mind. This is why we compiled a list of top-choice dog beds that will give you good value for your money and also give your dog a heavenly stay and a place worthy of calling home.
Keep scrolling to get the best bed for your Mini Schnauzer!
Best Bed for Mini Schnauzer at a Glance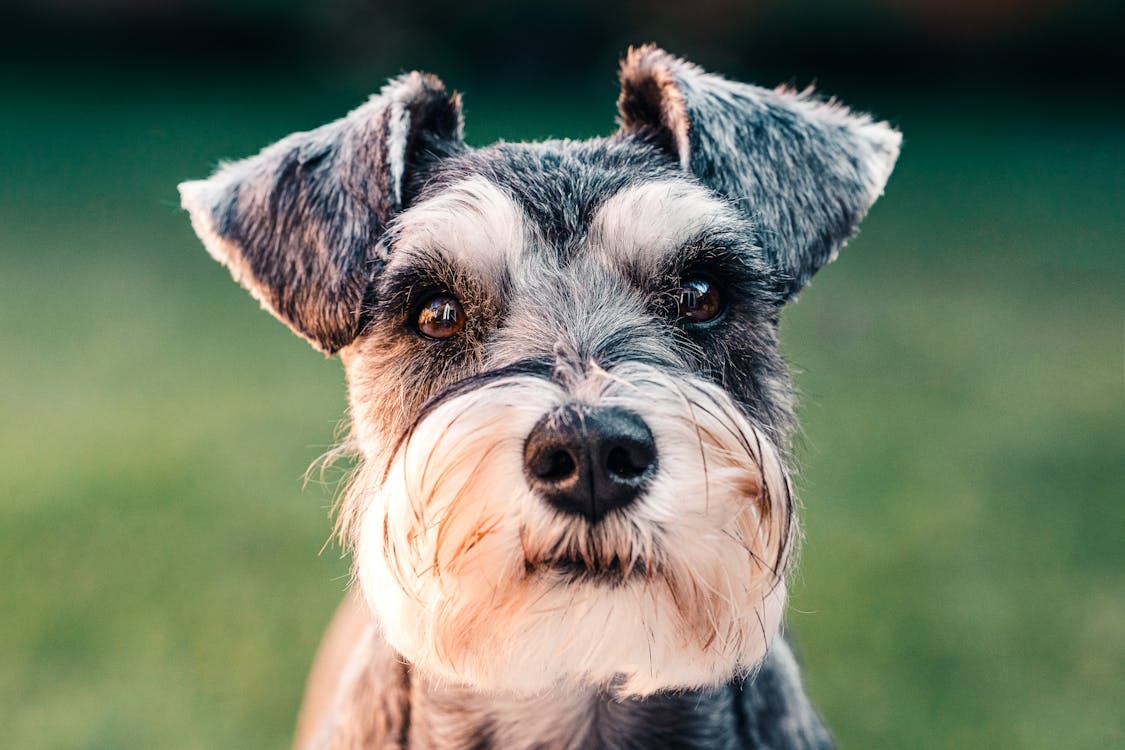 If you are looking for a long-lasting dog bed that will give good value for your money, the Casper bolster dog bed is the perfect choice for you. This dog bed provides a comfortable sleep environment that your furry buddy will surely fall in love with it.
Its cover is made of scratch-resistant solid microfibers, making the bed a beast in the longevity department. The cover also has excess material on top to mimic the pawing sensation at loose earth. So if your canine pal likes to dig, this bed is perfect for him.
The top layer of the bed is crafted with memory foam to help relieve pressure and provide support for your pal's joints and hips. The foam bolsters also support the neck and the head, giving your canine pal the comfort he needs.
Casper bolter dog bed also has a nylon cover that is removable and machine washable. This measure allows you to provide a clean environment for your Mini Schnauzer.
Give your furry buddy the comfort he deserves with the PetFusion dog bed, dubbed the ultimate comfort provider. This cozy dog bed will send your canine pal into slumberland in no time.
This stylish bed features a four-inch solid memory foam base with supportive bolsters that give your pooch the ultimate comfort experience. The memory foam base is covered with an anti-tear material to protect the dog bed from tears and scratches.
PetFusion dog bed also features a durable cotton layer and polyfill bolsters that provide extra support and comfort to your pal's skin and body. The outer covering is water-resistant, and the base is lined with memory foam to protect your floor from accidental scratches. If you are looking for a comfortable design, PetFusion has got you covered.
You can provide your canine buddy with warm and cozy sleeping space to ensure he does not fall sick due to cold conditions during the chilly winter days. Well, if you are determined to make your canine buddy as comfortable as possible during cold periods, the American kennel club dog bed is the perfect choice for you.
This dog bed features self-heating thermal technology with no cords or outlets that heat his body as he lies on it. These warm conditions give him comfort during chilly days, and he will be reminded of the good old days while sleeping with his littermates.
This bed has a plush-quitted sleeping surface that is comfortable and machine washable. Besides, the bed ensures your canine buddy stays in a comfortable, neat environment.
If you are looking for a dog bed that will add a beautiful touch to any home while giving your canine buddy the comfort he requires, the Frisco Sherpa bolsters dog bed is the perfect bed to go with (if you're looking for a car bed – click here). The stylish design comes with a modern design with sky tones that will complement the interior décor of your house.
This bed features a two-piece rectangular removable cushion that is super comfortable and stylish. The double-sided cushion consists of polyester fiber filled with cloud Sherpa and a geometric twill print on the other side.
 This bed is machine washable and creates a clean environment for your furry pal.
After a long day of fetch and fun with your Mini Schnauzer, he will require a place to lie down and rest. If you are looking for a bed for your canine buddy, BarksBar orthopedic dog bed is the paw-feet bed to consider.
Crafted with human-grade orthopedic memory foam, this durable dog bed is just as cozy as his favorite spot on the couch. The bed features an inner sleeping space perfect for small to medium-sized Mini Schnauzers.
The top layer of the bed is crafted with a quality polyester cover that is strong and scratch-free. The supportive orthopedic foam base is cotton-padded and has a cushion that contours to support your friend's neck.
The BarksBar bed is also easy to clean as it has a removable cover that is machine washable.
Best Friends by Sheri is a dog bed made with an innovative rounded design with a depression in the middle where your furry friend can fit in. This rounded design has a wall-like structure that allows your canine buddy to place his head while resting.
The high and overstuffed rear wall provides comfortable back support, while the lower-carved front wall supports your pal's head and neck. The matching bottom is made with a durable fabric that does not attract dust or dirt.
This bed also features a soft Sherpa fabric that keeps your pal warm and comfortable while he rests. It is also machine-washable to ensure your pal stays in a clean environment.
Why Mini Schnauzers Need Dog Beds
Miniature Schnauzers are beloved pets that deserve a comfy home to rest their furry heads. As a smaller breed, these pups need a dog bed that is suited to their size and needs. A dog bed offers a cozy spot for Mini Schnauzers to nap and sleep, while also providing support for their joints and muscles.
Without a bed of their own, they may seek out less-than-ideal resting spots, such as the cold hardwood floor or a pile of laundry. Plus, a dog bed helps to protect furniture and allows them to have their own designated space. When it comes to keeping your Mini Schnauzer happy and healthy, a comfortable dog bed is a must-have accessory.
Discuss the importance of choosing a quality dog bed
Choosing a quality dog bed is more important than many people realize. Our furry friends spend a significant amount of their time sleeping, and a comfortable bed can provide them with the proper support they need. A quality bed can also help dogs who suffer from joint pain, arthritis, or other ailments to sleep more comfortably.
A good bed can also keep your dog warm in colder months and cool during hot summer nights. Additionally, a well-made bed will last longer, meaning you won't have to replace it as often. Investing in a quality dog bed is a smart decision that can make your beloved pet happier, healthier, and more comfortable.
Compare the features of High-End vs Budget Dog Beds
Choosing the perfect dog bed can be a daunting task, especially with so many options available. High-end and budget dog beds are two popular options that can make a difference in your furry friend's comfort level and your wallet. While both offer a comfortable spot for your pup to rest, high-end beds often come with features such as memory foam, waterproof materials, and machine-washable covers for ultimate convenience.
On the other hand, budget beds may offer a more simplistic design without any additional features but can still provide ample cushioning and support. Ultimately, it comes down to personal preference and what fits your budget – whether you opt for the luxurious high-end option or a more cost-effective solution, your furry friend will appreciate a comfy spot to rest their head.
Review Benefits and Drawbacks of Different Brands
When it comes to choosing a brand for any product, there are always benefits and drawbacks to consider. One popular category where this is particularly relevant is electronics. There are a variety of notable brands to choose from, each with its unique features and advantages. Take Apple, for example.
With its sleek design and user-friendly software, it's no wonder Apple products have a loyal following. However, their steep prices might not be appealing to everyone's budget. Samsung, on the other hand, offers a wider range of product options at more affordable price points, but their user interface might not be as intuitive for some. Ultimately, it's essential to weigh your priorities and needs to determine which brand will suit you best.
Evaluate Durability & Maintenance Requirements for Each Bed
When it comes to investing in a bed, durability, and maintenance requirements are important factors to consider. You want a bed that will last you for years to come without needing constant repairs or replacements. It's important to evaluate the materials that the bed is made of and how well it can hold up against wear and tear.
Additionally, considering the maintenance requirements is crucial in ensuring the longevity of your bed. Will it require frequent cleaning or special care? By taking the time to evaluate these aspects, you can make an informed decision on the best bed for you and your lifestyle.
What size bed for a miniature schnauzer?
When it comes to choosing the right size bed for your miniature schnauzer, there are a few things to consider. First, you'll want to consider the size of your pup. While miniature schnauzers are small dogs, they can still vary in size. As a general rule, a small bed with dimensions of around 24 x 18 inches should be sufficient for most miniature schnauzers.
However, if your pup is on the larger side, you may want to opt for a medium-sized bed. Additionally, it's important to choose a bed that is comfortable and supportive, as your miniature schnauzer will likely spend a lot of time napping and resting in it. By considering these factors, you can find the perfect bed to keep your furry friend cozy and happy.
How long should a Miniature Schnauzer sleep?
Miniature Schnauzers are an adorable breed that always seems to be ready to play and explore the world around them. But just like any other dog, they need their rest. So, how long should a Miniature Schnauzer sleep? Well, the answer may surprise you.
These little guys require quite a bit of sleep, with the average adult Schnauzer sleeping anywhere from 12 to 14 hours per day. Puppies, on the other hand, may need up to 20 hours of sleep a day to grow and develop properly. It's important to keep in mind that every dog is different, and some may need more or less sleep than others. Overall, allowing your Miniature Schnauzer to get plenty of rest is essential for their health and well-being. With the right bed, your canine friend can enjoy a peaceful sleep no matter how long it lasts.
Wrap Up
Getting an excellent comfortable bed for your dog is a way of showing love to your furry buddy aside from providing quality food. The bed ensures your pal enjoys a comfortable stay in your house.
The dog beds above are well-equipped to give your dog the best and guarantee you good value for your money. Whichever you will decide to choose, you will not regret it. 
All the best as you choose your preferred dog bed!